Bible Studies
This Fall, you can still connect to God and to women at Crossline with a variety of online or in-person Bible Studies, Prayer Groups, or Fellowship Opportunities. If you need help deciding which weekly study or group is best for you, please don't hesitate to contact us.  We can't wait to study God's word and genuinely do life with you!
Women's Bible Study
Mondays: 7-9 PM   |  Fall Dates: September 13- December 13
Study starts promptly at 7pm, arrive at 6:45pm to fellowship with other women!
Thursdays: 9:15 – 11:30 AM | Fall Dates: September 9- December 9
Coffee and Fellowship time begins at 9:15am, study begins promptly at 9:30am
Studies are located in the Fellowship Center
Fellowship and Study of God's Word, Large Group Teaching w/Small Group Discussion. Open to all women! Childcare is only available on Thursday mornings.
Join Crossline Women this Fall for 5 weeks of "The Outpouring": A Church-wide community group series with an added women's teaching! (You may be doing this study with a community group, as well. We invite you to join us for additional women's fellowship and teaching if you have the time.) Immediately upon completion of The Outpouring, we'll be studying the book of Jude together for 7 weeks. These large group teachings and small group discussions will help provide you with growth in your faith journey and women just like you that offer fellowship, friendship and encouragement to your soul.
Register Here For Monday Nights
Heartline Moms
Mondays: 7-9 PM   |  Fall Dates: September 13- December 13
Tuesdays: 9 -11 AM | Fall Dates: September 14- December 14
Heartline Moms connects moms of young children to community, encouragement, and faith. This weekly program is open to moms in our community and in our church and offers a space to gather safely and grow in our friendship, motherhood, and faith journey. Join us Fall of 2021 for small, in-person gatherings Monday Nights or Tuesday mornings as we hear from encouraging speakers, engage in meaningful and uplifting discussion and experience rest and refreshment from our time together as friends! Childcare is available for Tuesday AM meetings.
For more information, click below and head to our "Heartline Moms" Page.
Women's Discipleship Track
Childcare Available for all studies below
Get In
Tuesdays: 6:30 -8 PM | Fall Dates: October 12- November 9
GET IN is a 5-week study where we will learn the foundations of the Christian faith. Utilizing  "SEEK: A Women's Guide To Meeting God" by Donna Jones, this study is open to anyone, anytime.
GET IN starts October 12 for on-campus meetings.
Get Healthy
Tuesdays: 6:30 -8 PM | Fall Dates: October 12- November 9
GET HEALTHY is a 5-week class that will address the topics of a woman's Confidence, Contentment, Family Relationships, and Friendships are offered each quarter. With a large group teaching and a small group discussion, this is a great place to receive practical and Biblical suggestions on the topics women face most! Open to all women!
GET HEALTHY Friendship starts October 12 for on-campus meetings.
Get Strong
Tuesdays: 6:30 -8 PM | Fall Dates: October 12- November 9
GET STRONG is a 10-meeting (two, 5-week sessions) mini-discipleship group available to graduates of all 4 Get Healthy classes (Confidence, Contentment, Family, and Friendship). At each meeting, we will explore a foundational biblical principle and its practical application in our lives.
GET STRONG Part 1 starts October 12, meeting on campus.
Precepts:
Inductive Bible Study
Wednesday 9:15-11:30 am | Fall Dates: September 22- December 8
Join us in person or online for a study through Revelation with a focus on the 7 letters to the 7 churches. What are the last words that Jesus gave to the church? He gave 7 messages of hope, correction, instruction and promise found in Revelation, Chapters 1-3. Join us for this Precept study and go deep as we find application for our daily lives and hope for the future.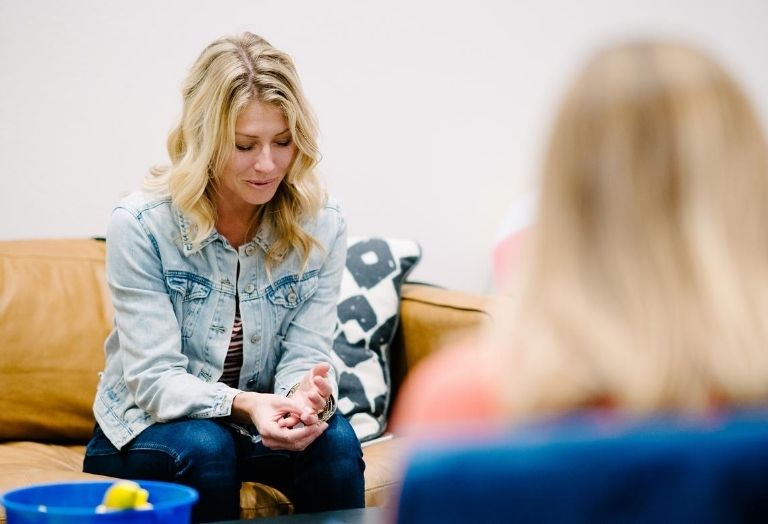 Prayer, Praise & Worship
Fridays 9-10:30 am
Prayer, Praise & Worship.
Fridays 9-10:00am
Please join us in the Chapel Bride Room
Time: Fridays 9am
Email with any questions, [email protected]