Crux HS (Flag) Football League
Oct 2, 2020 - Nov 13, 2020 | 5:00 pm - 8:00 pm
---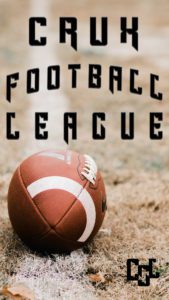 High Schoolers!!
Fall is officially here which means it's FOOTBALL SEASON! Does your team have what it takes to win it all and be the first team to have it engraved on our CFL trophy?! But wait.. that's not all.. the CFL champions will have their own Championship T-shirt AND a free team dinner ON US!
With Fall CIF sports on pause, we decided to bring fun and healthy competition by launching a flag football league. If you are itching to play ball with your homies or to compete with other high schoolers in the area, this is for you. SIGN UP!
The Deets:
Who: High schoolers! (9th – 12th grade)
What: Crux Football League!
When: FRIDAYS, October 2, 2020 – November 13, 2020
Where: Sendero Park
(29201 Ortega Hwy, San Juan Capistrano, CA 92675)
Why: Because CIF is on pause so why not create a league?!
Cost: $30
>>>REGISTER HERE<<<

**CFL Medical Release Form will be available very soon!**